User Guide
This user guide covers all of the commonly asked questions; we recommend and ask that you read it thoroughly before seeking further help. All information about your own account is shown in the Control Panel.
How do I set up my DrayTek VoIP product for DrayTEL ?

Please click your closest model match:

How do I upgrade my VigorTalk Firmware?

Please see the separate instructions here.

Which other VoIP hardware works with DrayTEL?

Any SIP compliant VoIP hardware (router, IP phone, ATA) should work with DrayTEL. Please note that we cannot provide specific technical support for hardware setup - please contact the manufacturer or supplier directly. We do have some setup screenshots for some of the more common models:

For products not listed, configuration normally follows similar methods although config screens and terminology will vary between manufacturers. Here is some general advice:

In your VoIP phone, adaptor or router's configuration menu there should be an option to define a SIP Server, SIP Registrar or SIP Domain value. Set the value to: draytel.org.
For SIP Authentication, set your SIP User ID (or similar name) to your DrayTEL ID (eg 899999) and set the SIP Password to your six-digit DrayTEL SIP Password provided in your activation email (that is not your Voicemail password).
If your device is behind a NAT firewall (router) then you may need to use the VoIP device's Outbound Proxy setting, set this to: nat.draytel.org:5065. Alternatively, if this setting allows you to define the port number (5065) in a separate field, set the IP Address to: nat.draytel.org and the port number to: 5065.
Confirm/Save the settings (sometimes this requires rebooting your device). Once back online, dial 902 to confirm your configuration.
If you encounter any problems, make sure that your Router or ISP is not blocking any traffic, specifically on ports 5060 and 5065 or UDP traffic.

If you require assistance from DrayTEL, please include screenshots of your device's setup pages to assist us.
Which VoIP 'softphones' work with DrayTEL?
If you do not have a hardware VoIP adaptor, you can use your PC, with a suitable headset or speakers with a microphone to make VoIP calls. Several VoIP softphones are available; any SIP compliant softphone should work with DrayTEL. This is a list of some of them that we have tested. We are unable to offer specific support assistance on 3rd party software itself.
How do I set up other products for DrayTEL ?
The setup of your equipment or software will depend on that product and you should refer to its own documentation. The information you need is normally :
Registrar : draytel.org
SIP port : 5060
Username : 8xxxxx (the numeric part of your DrayTEL account, before the @draytel.org)
Outgoing Proxy : nat.draytel.org:5065 - Note : This should not be used unless your VoIP device is behind another firewall - only use it if that is the case and try without first. The Port number and outgoing proxy name might be entered separately, depending on the VoIP device you're using.
Is there an outgoing Proxy for DrayTEL ?
Yes. If you are using your SIP device behind a firewall, or NAT device, you may need to use the DrayTEL proxy instead of accessing DrayTEL in direct mode. To do this, set your outgoing proxy to nat.draytel.org:5065 (the exact method will depend on your VoIP/SIP device. Do not use the proxy if your VoIP device is on a public IP address. DrayTEL does not operate a STUN server (and equivalent method).
How to make calls to the PSTN (regular phone lines)
Firstly, you will need to purchase DrayTEL call credit (see later), and your router (or other VoIP device) will need to be logged into the DrayTEL server. Then you can just dial the number, with full STD or International code, e.g. 02079991234 or 00495129991234, followed by the # key (or as your hardware advises). If you are outside of the UK, you must always dial in international format. Billing for calls to the PSTN on DrayTEL is per second, rounded up to the nearest penny.
Can I use DrayTEL from PSTN lines?
Yes, you can. If you are not with your VoIP device, you can still take advantage of DrayTEL's low calling rates to call worldwide. This can be from a mobile phone or landline using your inclusive/free minutes where available (alternatively, you will pay for the call to the DrayTEL server, but that is still normally cheaper than international direct dial). To do this, dial 020 7099 8207 and enter your DrayTEL username and password. You can then make calls using your DrayTEL credit at your DrayTEL current tariff.
How to purchase more DrayTEL Call credit
Calls to other DrayTEL/SIP users are free - the call is carried across the Internet. To make calls to people on regular phone lines, the call is carried via the DrayTEL gateway onto the PSTN, and those calls are chargeable (see current ratecard). DrayTEL credit can be purchased in £10 and £20 amounts or quick £1.50 top-ups. If you purchase £10 of credit, additional features are enabled (answerphone, call forwarding, geographic number). If you purchase £20 of credit, the additional account features (silver calling tarrif) is enabled for 12 months. Prices exclude VAT, which is added to all purchases (but not usage). We do not currently have a VAT exemption scheme for intra-EU or non-EU purchases. You can buy DrayTEL calling credit from the DrayTEL control panel. Credit is non-refundable (the order cannot be cancelled) once it has been delivered (applied) to your account so please do not purchase more than you will need as any remaining credit is lost if your DrayTEL account is closed or expires (see later).
Can I get a lower value credit topup?
You can buy calling credit in £10 or £20 amounts from your DrayTEL control panel. If you want to buy a smaller amount you can add an instant £1 to your DrayTEL account's calling credit by dialling our Premium Rate number. No credit card is required - you just dial the premium rate number below and you are charged on your regular BT phone bill. Enter your DrayTEL account number and password when requested and the calling credit is added to your DrayTEL account within a few minutes.
VERY IMPORTANT NOTE : Be sure that you have the permission of the person who pays the phone bill for the line you're calling from before calling this number.
Dial : 0911 400 9700
(£1 Call Charge, gives £1 DrayTEL credit inc. VAT) BT Calling rate are correct as at 1st May 2005. Call charges to these numbers from mobile phones or other networks may vary. Check with your provider. These numbers can only be dialled from within the UK. Be sure to have your DrayTEL correct account number and password to hand when calling as the call is charged regardless of whether you enter a valid username/password or not.
How/When does a DrayTEL account expire?
As DrayTEL does not have a monthly subscription, users who no-longer need the service do not need to actively cancel anything or let us know. In order to purge unwanted accounts and free up resources (particularly allocated phone numbers which are a finite resource) we may periodically purge (close) unused accounts. This means that DrayTEL accounts which are not used for a period of 3 months may be closed. Note, we say "may" - we do not do this regularly or as a matter of course. To be considered 'used' you just need to be logged into the DrayTEL server and make or receive at least one call at least once every 90 days - the account will then not be deactivated. If an account is deactivated/closed, any allocated phone numbers will be deallocated to you and any remaining call credit is lost (non-refundable). Allocated phone numbers (for voice calls or fax-to-email) may be de-allocated if they do not receive any calls for 90 days, even if the account is logged in so just make one incoming call (or send a fax if it's a fax-to-email number) to your allocated phone numbers at least once every 90 days to keep them active. Please be sure you remember the expiry system, then it's easy to keep your account live. If you let your account expire, it cannot be re-activated. If you are planning an extended period of absense, please get in touch with us to see if we can hold the account open (you must do this in advance).
Does purchased calling credit expire?
No. When you purchase DrayTEL calling credit, it remains on your account indefinitely - i.e. as long as your DrayTEL account remains live, your calling credit will remain until you use it up by making calls. If your DrayTEL account is closed, any remaining calling credit is lost and non-refundable. See account expiry above for more details.
Which tariff am I on?
There are currently two DrayTEL calling tariffs - that covers the cost of calls you make out to the PSTN (regular phone network). With all accounts you will get the DrayTEL Standard tariff automatically. Once you buy at least £20 of calling credit, you will be upgraded to the DrayTEL Silver Tariff, which stays active for 12 months. You can check which tariff you are on from the DrayTEL control panel and view the actual tariffs here. Tariffs are subject to change at any time.
How do I get a VAT Invoice for my purchases?
These are available for a period of 3 months after each purchase; click the 'View' button(s) at the bottom of your DrayTEL control panel where recent purchases are shown (for the past 3 months). If you may require the invoice in the future, please download it immediately/now whilst available on the control panel as it may not be available beyond 3 months after purchase. For more informtion on VAT, see the earlier section on purchasing call credit.


Additional Information for Credit/Debit Card Purchases
Sometimes, people will attempt to obtain services using stolen or unauthorised card details. By the time the faud is detected by the legitmate cardholder, the culprits will have spent whatever credit/service they purchased. Certain transaction types carry more risk than others and sometimes our payment handlers will request additional information from you before a credit purchase can be applied to your account. If this does become necessary, we will email you requesting details. We understand that any delay can be inconvenient, but please understand the necessity. We do apologise for any delay this causes; please be assured that we will handle the validation as quickly as possible. Do always ensure that any emails from draytel.org are not blocked by anti-spam measures. Most card purchases do not require these extra checks and credit is normally applied to accounts immediately. If it is impossible or you are unwilling to provide the additional information requested by our payment handlers, you can request that the purchase be refunded to you. For obvious security reasons, we cannot advise you in advance what additional information might be requested or which transaction types attract additional scrutiny. All information provided is treated in the strictest confidence. We appreciate your co-operation.
How to get a phone number to receive calls from the PSTN
If you want an 0845/056 telephone number for regular PSTN users to be able to call you, you can order 056 here or 0845 here. 056 in an 'area code' for VoIP (and other non location specific services). If you want a UK geographic area code (one starting 01.. or 02 etc.), you can chose any area code and activate that free of charge once you order £10 of calling credit (request the number from your DrayTEL control panel). You cannot choose the number which will be allocated to you (only the area code). Once a number has been allocated, you can find out what it is from the DrayTEL control panel. You can have up to three PSTN numbers allocated (e.g. an 0870 and a geographic one), plus a fax-to-email number. Any allocated PSTN phone numbers which doesn't receive a call at least once every 90 days may be de-allocated (just a single incoming call to it to mark it as 'alive' is adequate as long as your DrayTEL account is still open). In reality, we rarely deallocate numbers.
What is an '056' number?
The 056 'area code' was introduced by Oftel as a prefix for non-location specific services (generally VoIP). It is cheaper to call than 0870 numbers which we allocated previously, so people calling you will pay less than they would to an 0870 number. Exact charges depends on the caller's telephone provider.
Can I get a non-UK number for incoming calls?
DrayTEL is based in the UK but is available to anyone worldwide. Currently DrayTEL can allocate incoming PSTN numbers only in UK area codes (including Northern Ireland) but not for other countries. The UK numbers cover any geographic code within the UK/NI, as well as 0870 or 0845 numbers. You can get a free USA phone number routed to your DrayTEL account from here; that USA number can co-exist with your DrayTEL-allocated UK number.
How do I use Voicemail/Answerphone?
The DrayTEL Answerphone facility is available free of charge, once you have purchased at least £10 of calling credit. You enable the answerphone (voicemail) facility from the DrayTEL control panel. There is a default message which callers will hear but you can record your own personal message if preferred.
You can select the criteria in which the answerphone will take calls - for example when you don't answer, or when you're busy (on a call) etc. The screenshot below shows the options.
When someone leaves a message, it will be emailed to you at the email address you specify in the DrayTEL control panel - that can be different from the main address of your DrayTEL account. The message will be an attachment to the email in 'WAV' format which can be played in Windows Media Player™ and most other players. You can also pick up your messages by telephone - dial 9200# from your DrayTEL phone. You will be asked for your PIN, which you can change/check from the control panel (by default it is the same as your account password). If you are elsewhere, you can check messages by dialling 0845 004 9207 from any regular or mobile phone; enter your DrayTEL numeric account number and password when asked (each followed by the # key). Once connected to the mailbox, press 1 to listen to your messages.
To change your answerphone message (the message callers will hear before the voice prompt), dial into your mailbox (as above) and press option '0' which takes you to the setup menu, then press option 1 to record a new message.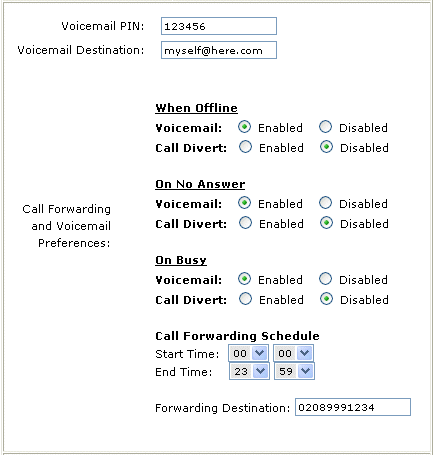 How do I listen to Voicemail messages by phone?
Instead of listening to messages on your PC via email, you can collect your messages from your VoIP telephone - the phone logged into your DrayTEL account, or from a regular phone line or mobile phone. To do this, dial 9200 from your VoIP handset/device (plus # or 'send' normally, depending on your hardware) or dial 0845 004 9207 from a regular line (call charges apply to 0845 calls).
You will be asked for your Voicemail password (and also your DrayTEL account number if you use the 0845 service). By default your voicemail password is the same as your SIP password, but you can change it and it is displayed on your DrayTEL control panel. Dial the 5 digit passwork without any other keys (e.g. # or send). If the numbers appear not to be recognised, check that your VoIP device is sending DTMF tones as 'Outband (RFC8233)' method. On the Vigor routers, for example, this is selected from the VoIP setup menu:


Once you have entered the correct Voicemail password, you will be at the voicemail main menu. If you have never collected messages via this method before, you will have all previous messages waiting for you - which could be a lot, and you will probably want to delete them.The Voicemail menu is built in a tree style, with menus and sub-menus. The currently supported functions are below:
Voicemail Menu
1 - New Messages Playback. Whilst listening you can select:

3 - Advanced Options

1 - Reply to user (if it's another DrayTEL user)
3 - Read 'Envelope' (time, date, caller ID)
* - Return to previous menu

5 - Repeat the current message
6 - Move to next message
7 - Delete the current message
8 - Forward the current message (to another DrayTEL user)
9 - Save the current message
# - Exit back to the previous menu

2 - Folder Selection - Switch between New or Old (listened to) messages:

0 - Old Messages
1 - New Messages

0 -Voicemail Options:

1 - Record your own message for when Unavailable (when you don't answer)
2 - Record your own message for when Busy (you're engaged)
5 - Change your Voicemail password

* - Repeat the Options menu
# - Exit the Voicemail System (or just hang up!)
How do I use Call Forwarding?
The DrayTEL Call Forwarding facility is available once you have purchased at least £10 of calling credit. You enable the answerphone (voicemail) facility from the DrayTEL control panel. Call forwarding allows you to forward incoming calls onto another destination (any regular phone number, worldwide) if the event of you not answering, being engaged or offline (see screenshot above). You will be charged for the diverted call at the standard DrayTEL peak rate. You can set a schedule so that the call forwarding (diversion) is only active during a certain time of day. You cannot forward onto another SIP/VoIP address, only to a PSTN phone number (which in turn could be a VoIP/SIP account). Enter the number with the international prefix and full STD code, e.g. 44 20 8999 1234 for a London number (spaces are ignored).
How to check your current call credit balance
You can check your DrayTEL credit in the following ways :
Dial 901# with your DrayTEL connected phone.
View the information at the top of your DrayTEL control panel.
How to check your outgoing call history
You can check your call history (showing calls made to the PSTN) from the link at the top of your DrayTEL control panel.
How can I download my call history?
If you want to have an offline copy of your call records, or process them in a spreadsheet for example you can download a 'CSV format' file from DrayTEL showing all charged calls for at least the past 90 days. To do this, from the main control panel, click 'Call History' and then 'Download Call History'. Below is an example of how the download screen looks:

How to call other VoIP networks
You can call users outside the DrayTEL network by dialling their IP Address if you know it, or by putting their SIP address into your hardware/software's phone book (or 'dial-plan'). If they have a numeric address, DrayTEL also provides some short codes to prefix to a user's ID to call them across another provider's network and dial directly on the keypad :
71 to dial a user on the FWD network
72 to dial a user on the iptel.org network
73 to dial a user on the VOIPTalk network
How does Music-on-hold work?
If you have an incoming call from the PSTN, your equipment (phone, router etc) may allow you to place a call on hold, using the SIP hold facility. In this case, the call is temporarily 'parked' on the DrayTEL server. The caller will hear music whilst held, to entertain them and let them know they haven't been disconnected, instead of hearing silence. Check with your hardware supplier whether your equipment can put calls on hold.
How do I withhold my Caller ID?
For calls to the PSTN via DrayTEL, dial *141 immediately before the destination phone number. You can test this by dialling your own mobile phone with and without the *141 for example. For direct VoIP/SIP calls which don't go via the DrayTEL server, *141 does not work; the SIP protocol will deliver your SIP address (but not your PSTN number).
Can I make calls to Skype users?
Unlike most VoIP services, Skype™ is a 'closed system' - they use their own protocols and only Skype users can only make and receive VoIP calls from other Skype users. You can call Skype users from DrayTEL by using the person's Skype-In telephone number, if they have one, which is charged at regular DrayTEL rates (according to country/area code). Skype users can call to you, using the Skype-Out service to your PSTN phone number. These calls are not free.
How do I use Group Calling?
Group Calling on DrayTEL is available on your account free of charge once you have purchased at least £10 of calling credit. Group Calling allows incoming calls to your PSTN telephone number (note : not direct SIP/VoIP address calls) to be routed simultaneously to up to two other DrayTEL accounts, thus making more people available to answer your incoming calls.
Group Calling does cannot integrate (work) with all other service features so you should plan carefully. Group Calling is setup and controlled from the DrayTEL control panel. Click on the link shown adjacent to your PSTN phone numbers. In the next screen, select the number which you wish to add other users to and click 'display'. Three 'extensions' will be shown; the primary one and two extensions which you can select. Enter DrayTEL account numbers into those boxes as required. Be sure that the users of those DrayTEL accounts know that you're adding them to the group and that you enter the numbers correctly.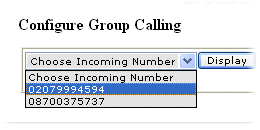 What is the difference between Multi-Device Calling and Group Calling?
With Multi-Device Calling, the same DrayTEL account is logged in at multiple locations. Each phone makes and receives calls on the same account and share the same calling credit. All phones will ring on an incoming call.
With Group Calling, you can include up to two other DrayTEL accounts to receive incoming calls to the same allocated PSTN phone number at the same time. All phones ring but each location/person still has their own DrayTEL account.
Password Recovery
If you have forgotten your DrayTEL password you can retrieve it from here - it will be emailed to you. If you have misplaced your User ID but you are logged into the DrayTEL service, you can confirm it by dialling 903 or 903# on your DrayTEL registered phone.
Useful DrayTEL Service Numbers
The following numbers can be dialled from your DrayTEL phone (normally suffixed with #):
9123 Speaking Clock
9200 Check your Answerphone (Voicemail)
901 To check your DrayTEL credit balance
902 Check that you are logged into the DrayTEL server
903 Check your User ID
904 Echo Test (for latency checking)
905 Audio Test. After the beep record your voice and receive it back to ensure two-way audio communication works properly.
906 Balance announce toggle. If you enable this feature, when you place calls to the PSTN, you will be told your credit remaining before the call is put through. Dial 906 again to turn the feature off for all calls.
907 Low credit announcement toggle. Enabling this feature will provide an announcement of low credit (<15 minutes remaining) before the call is connected, based on the cost of the current dialled destination. Dial this code it to enable or disable the feature for all calls.
You do need to be logged into the DrayTEL server to access the above service codes. The DrayTEL server normally expects your DTMF signalling (that's the method used for sending dialled digits) to be sent as 'SIP Info' messages so if your keypresses appear not to be recognised for these codes, check the DTMF setting on your VoIP/SIP hardware.
Can I send faxes via VoIP?
Your VoIP hardware will normally have a phone sockets into which you can plug any regular phone; you can therefore also plug in a fax machine - will it work though? The fax machine will be able to dial calls and answer incoming calls via DrayTEL as they are made just like your telephone does - so DrayTEL itself can carry the fax calls, however the actual transmission or reception of an analogue fax signal between the devices at each end is more complex - this is not a restriction or function of DrayTEL, but of the VoIP technology itself. VoIP uses codecs designed primary for speech; if you select a higher quality Codec (e.g. 64Kb/s) on your hardware, you will have the best chance of fax working, however fax is a synchronous system - meaning that the signal is carefully timed. VoIP introduces tiny delays (jitter) or losses which might be undetectable in speech conversation but will upset a fax signal. Therefore, the answer is that fax over VoIP may work, and you may have good results depending on the destination but it should not be relied upon - experiment. For receiving faxes, you can use the fax-to-email service instead (see below).
How do I use fax-to-email?
Fax-to-Email is not actually a VoIP facility but an extra DrayTEL service which compliments the VoIP service. With Fax-to-Email, you are allocated your own unique telephone number (020 Area code or 0845/0870 codes). This phone number is separate to your regular PSTN-to-VoIP number which you use to receive voice calls on. Using this number, anyone can then send you a fax which is received by DrayTEL and then forwarded to your chosen email address as an image (TIFF format) to view on-screen or print out. The desination email address is set from the DrayTEL control panel - to set it, click 'Configure Fax-to-Email' next to your allocated phone number:

Enter your chosen destination email address for received faxes and click 'Route'. You cannot choose the specific fax number which you are allocated - you are given the next available number. Numbers may be de-allocated if you do not receive a fax for over 90 days.
Why is my London number '0203'?
Some years ago, Oftel changed the London area codes from 0181/0171 to 020. For 'convenience' of conversion, inner and outer London were left separated at first, however as the ranges became filled, the distinctions reduced. The London area code is '020' and not 0207 or 0208. This can be demonstrated in that users within London can dial the 8-digit local number, including the 7 or 8, but cannot dial the 7 digit part on its own. Since the filling of the 7 and 8 local ranges, OfCom then released a new local range, starting with '3' for all of London. New numbers are therefore being issued in this range. A number starting 020 3... is a London number; it is not a 'second class' number and does not imply any inferiority.
Can I get my number in Directory Enquiries?
Yes; for a one-off admin/setup charge, we can have your personal or business name added to the national Directory Enquiries databases. Callers to 118 Directory Enquiries, online services will then have you listed.
Is there an SLA ('Service Level Agreement') or guarantee?
Although DrayTEL's basic service is provided free of charge but we still maintain the highest standards of reliability. We have an excellent history of reliable and continuous service and it is our goal to provide an uninterrupted service. DrayTEL's connectivity is provided by multiple independent Internet and PSTN providers, giving us prudent redundancy and we have continuous monitoring of the systems. You are relying on the underlying Internet connectivity so if your own or onward Internet connectivity is congested or interrupted, it can affect performance, however you should normally be very satisfied with the call quality. Whilst this should give you confidence in the quality and performance of our service, there is no specific service level guarantee.
How do I know that a web page is secure?
Some web pages are encrypted, particularly those used for online shops where you might be submitting credit card details. This helps prevent fraudsters from obtaining your details. There are two simple ways to tell whether a current connection is secure. Firstly, depending on your browser, a padlock symbol may appear at the bottom

. If the current page is 'framed' (a method of displaying, for example, payment gateways within another site) then the padlock may not appear because the padlock refers to the frame and not the content or current connection, so instead you can check the connection is secure by selecting File/Properties within your browser. (Example).
How do I adjust the Answerphone delay?
This feature is planned for soon.
Can I get a low credit warning?
At the bottom of the control panel, you can select the threshold at which you will receive a warning email for low credit; i.e. when your remaining call credit fallse below the amount you set. The default is £2.00.
Can I change my login password?
You are given a default password when your DrayTEL account is first opened. This password is used to log into the DrayTEL web site control panel and also to log into the server to make calls. If you are concerned that you may have let someone know the password or want to change it for any other reason, you can do that from the control panel. Enter your old password and confirm your new password twice. Your password must be between 5-10 characters in length and alphanumeric (numbers or letters). If you are using a device which uses a keypad for setup entry (e.g. a VigorTalk), numbers only is easiest to use.
Can this page be improved?
We hope that you've found these instructions interesting and helpful and that you found out what you wanted to know. We've put a lot of effort into this, but we can always make improvements so if you have suggestions please do let us know (email address below). If you just want to tell us that you're entirely satisfied with the help, the web page or the service, then we like to hear that too!
How to get further help
Telephone support is not available for the DrayTEL service. You can email your queries about the service to the following address. Please always state your DrayTEL username (login name). An engineer will respond to you as soon as possible.

. For help with your SIP/VoIP hardware, please contact your own supplier/manufacturer.
---
©2007. Reproduction prohibited without written permission. Service specification subject to change at any time without notice. E&OE. All service usage is subject to standard service terms. Trademarks are acknowledged of their respective owners. The DrayTEL service is operated independently of DrayTek Corp.